Attractions and things to do in Waterville.
Golf
With over 20 golf courses in Kerry, visiting golfers will be spoilt for choice. Waterville has its own Golf Club, world famous and highly rated by many of the worlds top golfers. Click here for more details.
Fishing

Deep Sea, rock and shore Fishing is some of the best in Ireland. The game fishing on Lough Currane is excellent, and ghillies and boats can be had for hire. There are some useful numbers below. Click here for more details.
Neil O'Shea - Salmon and Sea-Trout fishing guide ~ Phone 087 994 2792
Val & Roger Baker - Ghillies and Saltwater Flyfishing Guide ~ Phone 66 947 8009
Kevin Brain - Sea fishing guide ~ Phone 66 947 4942
John Griffin - Salmon and trout fishing Guide ~ Phone 066 947 4370
Frank Donnelly - Salmon and trout fishing Guide ~ Phone 066 947 4303
Rock Climbing and Abseiling
Get those muscles toned up by partaking in a day's Rock Climbing or Abseiling. Supervised by experienced and qualified instructors.
Celtic Adventures ~ Phone 066 947 5277
Skellig Michael
A World Heritage Site the Skellig Isles rise steeply from the sea some 12km to the west of Bolus Head. Boat trips are available from various locations, running between April and October. Colonised in the 6th century it was a centre of monastic life for Irish Christian monks. Their habitation of behive dwelling are well preserved as well as two oratories, stone walls, a stone cross and parts of other buildings. It's a don't miss archaeoligical attraction. Contacts for boat trips are listed below: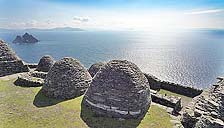 Kenneth Roddy ~ Phone 066 947 9924
Skelligs Rock Trips ~ Phone 066 947 5470
Skelligs Tours ~ Phone 066 947 6351
Murphy's Sea Cruise ~ Phone 066 947 1909
Skellig Boat Trips ~ Phone 066 947 9182
Des Lavelle Skellig Trips ~ Phone 066 947 6214
Little Skellig
The little sister to Skellig Michael, Little Skellig is the home of some 20,000 pairs of breeding Gannets and on a much smaller scale Storm Petrels, Puffins, Kittewakes, Gulls, Guillemots, Razorbills, Terns, Manx Shearwaters and Cormorants. Landing on the island is not allowed by circular boat trips around the island are available. See list above.
Walking & Cycling
Excellent walking and cycling routes are available for both the experienced and novice walker or cyclist. The Kerry Way is close by, winding its way around the Iveragh Peninsula, and further inland the hills, mountains and lakes make for a exhilarating and peaceful days excursion. Click here for more information.
Horse Riding



Get mounted, get exercise and explore the locality. Local Equestrian Centres listed below:
Ring of Kerry Equestrian Centre - Waterville ~ Phone 066 947 8948 or 086 608 9856
Beenbane Riding Stables - Waterville ~ Phone 066 947 4391
Eagle Rock Equestrian Centre - Caherdaniel ~ Phone 066 947 2124
Festivals
Solstice Arts Festival - Held at midsummer, this 3 day artistic festival encompasses music, song and dance, theatre, workshops, concerts, recitals, discussions readings and, of course, great craic.
Summer Splash Festival - An event for all the family. Held in July it includes a regatta on Lough Currane, soccer games, open air concerts, street theatre, village fête, loads of entertainment for children and much, much more.
Places to visit & things to do
Derrynane National Historic Park & House - ancestoral home of Daniel O'Connell, "The Liberator", a 19th century politician who campaigned for Irish emancipation and championed the cause of the Irish in the British Parliament. Open to the public in the summer months, the house and grounds and beach are well worth a visit.
Staigue Fort - the remains of a stone fort built about 2600 years ago. It is located near Castlecove, Caherdaniel.
The Ogham Stone - near Caherdaniel, displays an example of ancient Celtic Ogham text. The text consists of straight parallel and angled lines carved into a standing stone.
Valentia Meteorological Observatory - Open to the Public on Thursdays 11am to 12:30.
Entertainment ~ Traditional Irish Music, set-dancing and discos. The choice is plentiful and varied.
Heritage ~ Many interesting and unique archaeological sites.
Watersports~ Excellent Canoeing, Sailing, Diving, facilities. Tuition and hire available.
Irish Crafts ~ A variety of hand crafts can be bought locally.
Touring ~ Waterville is the ideal base for numerous day tours. Ask locally for details.
Boat Trips ~ trips to the Skelligs, Beginish Island and across to Dingle. Sea and lake trips may be booked using licensed boats.